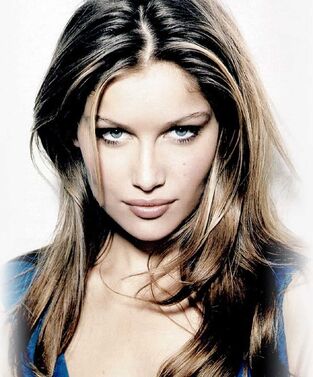 Laetitia Casta info:
FULL NAME: Laetitia Maria Laure Casta
COUNTRY: France
DATE OF BIRTH: May 11, 1978
PLACE OF BIRTH: Pont-Auderner, France
EYES: Blue
HAIR: Brown
OCCUPATION: Supermodel & Actress
Bio:
Laetitia Marie Laure Casta is a French actress and model. Casta became a "GUESS? Girl" in 1993 and gained further recognition as a Victoria's Secret Angel from 1998 to 2000 and as a spokesperson for cosmetics company L'Oreal. She has appeared on over 100 covers of such popular magazines as Cosmopolitan, Vogue, Rolling Stone, Elle and Glamour, and modeled for designers like Yves Saint Laurent, Jean-Paul Gaultier, Chanel, Ralph Lauren, Louis Vuitton, Roberto Cavalli, Lolita Lempicka, Christian Lacroix and Vivienne Westwood. Casta became an established actress, appearing in the films Gainsbourg (A Heroic Life), Face and Blue Bicycle, as well as the play Ondine at the theatre Antoine.
Casta's modeling career reportedly began when she was discovered by the photographer Frederic Cresseaux, during a family holiday in her father's native Corsica, at age 15. After her unexpected registration by Jeeby, Casta was elected Miss Lumio 93.
Casta has been the L'Oreal Paris brand ambassador since 1998. She has been featured in Guess? Jeans, Tommy Hilfiger, Miu Miu, Pepe Jeans, Alberta Ferretti and XOXO ad campaigns. Casta has appeared on over 100 magazine covers including Victoria's Secret catalogs, Harper's Bazaar, ELLE magazine, and Vogue magazine. She walked down the annual Victoria's Secret Fashion Show in 1997, 1998, 1999, and 2000. Caste was one of the company's signature Victoria' Secret Angels from 1998 to 2000. She claims that her career with Victoria's Secret ended because she was "too much of [a] rebel". She also appeared in three consecutive Sports Illustrated Swimsuit Issues, Rolling Stone, and the Pirelli Calendar 1999 by Herb Ritts and 2000 by Annie Leibovitz. She is the face of fragrances Chanel's Allure, Givenchy's Forbidden flower, Cacharel's Promise, Bulgari's BLV II, Ralph Lauren's Notorious, and on 15 June 2012 D&G's Pour Femme.
In 1999, Casta was ranked first in a national survey ordered by the French Mayors Association to decide who should be the new model for the bust of Marianne, an allegorical symbol of the French Republic, which stands inside every French town hall.
Casta has an older brother, Jean-Baptiste, and a younger sister, Marie-Ange. She spent her childhood in Normandy and Corsica.
Campaigns:
3 Suisses, Alberta Ferretti, Agatha, Agnes B, Alain Manoukian, Brunello Cucinelli, Bulgari 'BLV II' Fragrance, Cacharel 'Promesse' fragrance, Cashmere, Carlo Colucci, Chanel Eyewear, Chanel 'Allure' fragrance, D&G, Dana B. and Karen, Daniel Swarovski, Diamond.com, El Corte Ingles, Escada Sport, Federica, Galleries Lafayette, Giorgio Armani, Givenchy 'Fleur d'interdit' perfume, Giorgio Grati, Guess?, Isaac Mizrahi, J.Crew, Kathleen Madden, Kérastase, Kookai, L'Oréal, La Redoute, Linea T, Lolita Lempicka perfume, Louis Vuitton, Miu Miu, Morgan, Nina Ricci, Pantene, Pain de Sucre, Pepe Jeans, Phard Jeans, Ralph Lauren, Ralph Lauren 'Notorious' fragrance, Reed Krakoff, Roberto Cavalli, Tiffany & Co., Tommy Hilfiger, Ungaro, Victoria's Secret, Via Spiga, XOXO, Yves Saint Laurent 'Baby Doll' & 'Paris' fragrances, Zapa, Zoomp.
Fashion Shows:
Ready-To-Wear - Spring/Summer 1994 { Jean-Paul Gaultier }
Ready-To-Wear - Fall/Winter 1994 { Industria }
Ready-To-Wear - Spring/Summer 1995 { Capucine Puerari, Ralph Lauren }
Ready-To-Wear - Fall/Winter 1995 { D&G, Jerome L'Huillier, Sportmax }
Haute Couture - Fall/Winter 1995 { Ted Lapidus }
Ready-To-Wear - Spring/Summer 1996 { Mariot Chanet }
Ready-To-Wear - Fall/Winter 1996 { Jean-Charles de Castelbajac, Jerome L'Huilier, Christian Lacroix, Lolita Lempicka, Vivienne Westwood }
Ready-To-Wear - Spring/Summer 1997 { Angelo Tarlazzi, Junko Shimada, Lolita Lempicka, Vivienne Westwood, Victoria's Secret }
Ready-To-Wear - Fall/Winter 1997 { Jerome L'Huillier, Lolita Lemicka }
Haute Couture - Spring/Summer 1997 { Jean-Paul Gaultier, Paco Rabanne }
Haute Couture - Fall/Winter 1997 { Paco Rabanne }
Ready-To-Wear - Spring/Summer 1998 { Kenzo, Chanel, Corinne Cobson, Lolita Lempicka, Colette Dinnigam, African Mozaique, Victoria's Secret }
Ready-To-Wear - Fall/Winter 1998 { Lanvin, Leonard }
Haute Couture - Spring/Summer 1998 { Yves Saint Laurent }
Ready-To-Wear - Spring/Summer 1999 { Vivienne Westwood, Yves Saint Laurent, Victoria's Secret }
Ready-To-Wear - Fall/Winter 1999 { Mariella Burani, Gai Mattiolo, Victoria's Secret }
Haute Couture - Spring/Summer 1999 { Jean-Louis Scherrer, Yves Saint Laurent }
Haute Couture - Fall/Winter 1999 { Yves Saint Laurent }
Ready-To-Wear - Spring/Summer 2000 { Mafecco, Victoria's Secret }
Ready-To-Wear - Fall/Winter 2000 { Adolfo Dominguez, Isilda Pelicano, Florentino, Augustus }
Haute Couture - Spring/Summer 2000 { Jean-Paul Gaultier, Yves Saint Laurent }
Haute Couture - Fall/Winter 2000 { Celia Kritharioti }
Haute Couture - Spring/Summer 2001 { Yves Saint Lauren }
Ready-To-Wear - Fall/Winter 2002 { Roberto Cavalli }
Ready-To-Wear - Spring/Summer 2003 { Chanel }
Haute Coture - Spring/Summer 2003 { Jean-Paul Gaultier }
Ready-To-Wear - Spring/Summer 2010 { Roberto Cavalli }
Ready-To-Wear - Fall/Winter 2010 { Louis Vuitton }