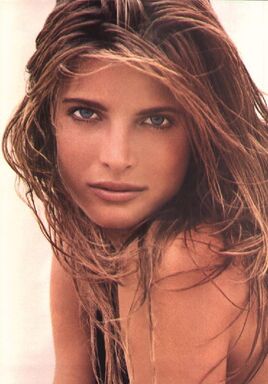 Stephanie Seymour info:
FULL NAME: Stephanie Michelle Seymour
COUNTRY: USA
DATE OF BIRTH: July 23, 1968
PLACE OF BIRTH: San Diego, California
EYES: Blue/Green
HAIR: Brown
OCCUPATION: Supermodel and Actress
Bio:
Stephanie Michelle Seymour is an American model and actress. Seymour has modeled for many notable fashion magazines and designers and has posed for several well-known photographers including Herb Ritts, Richard Avedon, Gilles Bensimon and Mario Testino. Born in San Diego, California, the middle child of a California real estate-developer father and hairstylist mother, Seymour started her modeling career working for local newspapers and department stores in her hometown at the age of 16. In 1983, she was a finalist at the inaugural Elite Model Management Look of the Year modeling contest (now called Elite Model Look).
In the late 1980s and early 1990s, Seymour appeared in numerous issues of the Sports Illustrated Swimsuit Issue and on the cover of Vogue as well. She walked the runway for the big designers such as Gianni Versace, Fendi, Chanel, Dolce & Gabbana, Christian Dior, Ralph Lauren, etc. During the same period, Seymour was a primary lingerie and hosiery model for the relatively new Victoria's Secret company in its mail-order catalogues and retail stores, becoming one of the first VS Angels. In March 1991, and again in February 1993, Seymour posed for Playboy. In 1998, she wrote Stephanie Seymour's Beauty Secrets for Dummies. She was presented on the November 1999 Millennium cover of American Vogue as one of the "Modern Muses". In 2000, Seymour was ranked #91 on the North American FHM 100 Sexiest Women of 2000 list. In 2006, she appeared in a campaign for Gap with her children.
Salvatore Ferragamo's creative campaign for his fall/winter 2007/2008 collection featured Seymour and Claudia Schiffer, shot on location in Italy with Mario Testino. In the promotional photos, the supermodels play film stars protected by bodyguards and pursued by the paparazzi.
Seymour's first acting role was as explosives expert Cynna Stone in the video game Hell: A Cyberpunk Thriller. She played the unusual part of a live actor in a game whose characters and scenery were nearly all CG renders. In 2000, Seymour played Helen Frankenthaler in the movie Pollock. In 2002, she played the role of Sara Lindstrom in the "Crazy" episode of Law & Order: Criminal Intent.
At the age of 16, she began dating 42 year old John Casablancas, the head of Elite Model Management, who was, at the time, married to model Jeanette Christiansen. The couple lived together before Seymour broke off the relationship. From 1989 to 1990, she was married to guitarist Tommy Andrews. The marriage failed but resulted in the birth of her first son, Dylan Thomas Andrews, in 1990. By mid-1991 she had become involved with Axl Rose, the lead singer of Guns N' Roses. She appeared in three music videos by Guns N' Roses: "Don't Cry", "November Rain", and "Estranged". The couple broke up in February 1993.
Campaigns:
Allesandro del'Aqua, Almay, Atelier Versace, BCBG, Bottega Veneta, Calvin Klein, Capezio Bags, Cesare Paciotti, Chanel, Chantelle, Crisca, Diet Pepsi, Dior Beauty, Domiani, Ellen Tracy, Egoiste, Este Lauder, GAP, Gerard Darel, Gianmarco Venturri, Gianni Versace, GUESS?, Guy Laroche 'Drakkar Noir' fragrance, H&M, Hanae Mori, Helmut Lang, Iceberg, Jason Wu, Lancetti, Laurel Jeans, Les Copains, Liberti, Loewe, Longchamp, L'Oreal, Louis Vuitton, Madeleine, Marc Jacobs, Missoni, North Beach, Osborne, Pop Sisley, Swatch, Radisson Hotels, Rolfs, Salvatore Ferragamo, Versace, Victoria's Secret, Yves Saint Laurent.
Fashion Shows:
Ready-To-Wear - Autumn/Winter 1990 { Azzedine Alaia }
Ready-To-Wear - Spring/Summer 1991 { Alma, Gianni Versace }
Ready-To-Wear - Autumn/Winter 1991 { Gianni Versace, Fendi, Prada }
Ready-To-Wear - Spring/Summer 1992 { Bluemarine, Dolce & Gabbana, Giafranco Ferre, Gianni Versace }
Ready-To-Wear - Autumn/Winter 1992 { Alberta Ferretti, Byblos, Giorgio Armani, Genny, Gianni Versace, Ralph Lauren }
Haute Couture - Spring/Summer 1992 { Gianni Versace }
Haute Couture - Autumn/Winter 1992 { Gianni Versace }
Ready-To-Wear - Spring/Summer 1993 { Krizia }
Ready-To-Wear - Autumn/Winter 1993 { Jill Sander, Ralph Lauren }
Haute Couture - Spring/Summer 1994 { Gianni Versace }
Haute Couture - Autumn/Winter 1994 { Chanel, Christian Dior, Ralph Lauren, Todd Oldham }
Ready -To-Wear - Spring/Summer 1995 { Chanel, Gianni Versace, Marc Jacobs, Victoria's Secret }
Haute Couture - Spring/Summer 1995 { Chanel, Valentino }
Ready-To-Wear - Autumn/Winter 1995 { Chanel, Gianni Versace,}
Haute Couture - Autumn/Winter 1995 { Chanel, Gianni Versace }
Ready-To-Wear - Spring/Summer 1996 { John Galliano, Ralph Lauren, Victoria's Secret }
Ready-To-Wear - Spring/Summer 1997 { Victoria's Secret }
Ready-To-Wear - Spring/Summer 1998 { Victoria's Secret }
Ready-To-Wear - Spring/Summer 1999 { Helmut Lang, Victoria's Secret }
Ready-To-Wear - Autumn/Winter 1999 { Vivienne Westwood Red Label }
Ready-To-Wear - Spring/Summer 2000 { Helmut Lang, Victoria's Secret }
Ready-To-Wear - Autumn/Winter 2000 { Helmut Lang }
Ready-To-Wear - Spring/Summer 2001 { Helmut Lang }
Ready-To-Wear - Spring/Summer 2003 { Dolce & Gabbana }
Haute Couture - Spring/Summer 2003 { Azzedine Alaia }
Ready-To-Wear - Spring/Summer 2008 { Louis Vuitton }
Ready-To-Wear - Spring/Summer 2009 { Hermes }